Everything you need to know before selling your secondhand watch
Whether you are downsizing your watch collection, letting go of a timepiece that you no longer wear, or want to find out how much you can get for a piece you inherited, there are some steps you should take before selling your watch. As the secondary market for pre-owned watches grows bigger by the day, there are more and more options on how and where to sell your used luxury watch.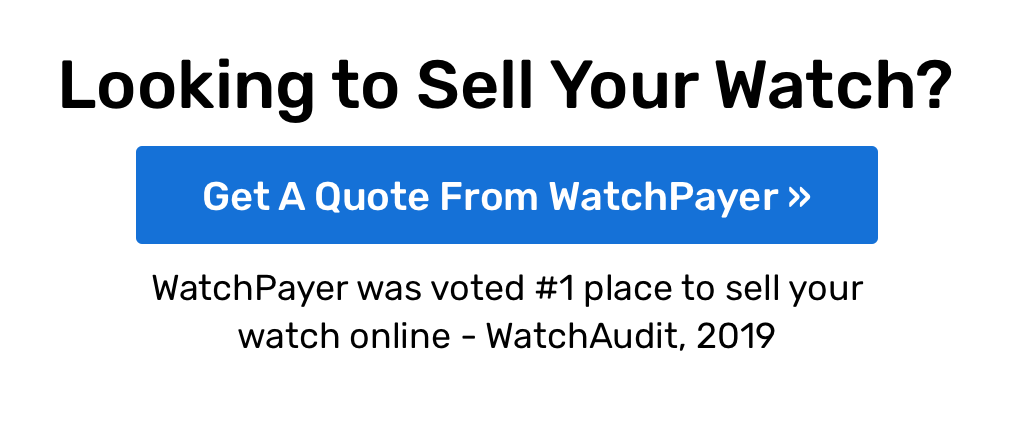 But with more options, it can also be more challenging to decide on the best way to sell a secondhand watch. So with that in mind, we have put together a comprehensive guide to selling pre-owned luxury watches to help you with the process.
Gather Your Watch, Papers, Packaging, And Other Accessories To Complete the Set
The first thing you want to do is to gather your watch along with anything that it comes with. Do you have the original box, packaging, receipts, authenticity guarantee, warranty card, and service records? Selling these along with your pre-owned watch as a complete set will likely make the selling process smoother.
Original documentation and packaging not only reassures potential buyers that your product is 100% authentic but it will almost always get you more money than selling without them. Having the accompanying boxes and papers can increase the selling value of your used timepiece anywhere from 15% – 25%. Plus, if you have any additional bracelet links, straps, hanging tags, cleaning clothes, pusher pins, setting styluses, or other accessories, include them too so you can sell a complete set to get the most money possible.
If you do not have anything extra than your watch, then that is fine too. You can certainly sell a pre-owned luxury watch without boxes and papers. However, understand that you will not get as much for it compared to having a full set. If you are not sure if you have the box and papers somewhere in your house or garage, it is worth the time and effort to search for it.
Some top watch brands offer services where they will issue you an "Extract from the Archives" a "Certificate of Authentication," or some other documentation for a nominal fee. It may be worth looking into this option if your watch is particularly expensive. Some popular watch brands that offer these services include:  
A. Lange & Söhne
Audemars Piguet
Breguet
IWC
Jaeger-LeCoultre
Longines
Omega
Patek Philippe
Piaget
Ulysse Nardin
Vacheron Constantin
Zenith
Find Out Your Watch's Model, Serial, and Other Important ID Numbers
The most basic information you will need prior to selling your pre-owned watch is its make and model. For example Rolex Submariner, Omega Speedmaster, Patek Philippe Calatrava, Audemars Piguet Royal Oak, Cartier Tank Solo, Breitling Navitimer, and so on. But there are other important identification numbers that you should be aware of too.
The most important is the watch's model or reference number. Yes, you may be selling a pre-owned Rolex Submariner but there have been dozens of different editions produced over the last six decades, so it is vital to know what your watch's specific model/reference number is.
Another number that is good to know is the watch's serial number, which is unique to the piece. Serial numbers can help you estimate when the watch was produced by cross-referencing it with production/serial code charts available online. Some brands offer official databases while other databases are compiled by watch enthusiasts.
Where Can I Find My Watch's Model/Reference and Serial Numbers?
The easiest place to find a watch's identification numbers is on the official paperwork. But, if you do not have that, then you will have to look at the watch itself. And depending on the brand, the model and serial numbers are placed on different locations on the watch.
Here is a general guide to finding ID numbers on popular watch brands—but this not 100% true of all of the watches made by the brand (particularly older vintage timepieces).
Audemars Piguet: Audemars Piguet watches have two individual numbers that make it unique. The first is engraved on the movement mainplate inside the watch. The caseback will have to be removed to see it. The alphanumeric serial number is engraved on the exterior of the caseback. The watch's reference number is on the paperwork.
Breitling: The Breitling model/reference number (usually starts with a letter) is engraved on the exterior of the caseback. The serial number is also engraved on the caseback and only includes digits.
Cartier: Cartier casebacks have a four-digit code engraved on the exterior, which tells you the style of the case (i.e. the collection). The "W" Cartier reference/model number is only located on the paperwork. The serial number is also engraved on the exterior of the caseback.
Chopard: Chopard casebacks have a four-digit code engraved on the exterior, which tells you the style of the case (i.e. the collection). The full Chopard reference/model number is only located on the paperwork. The serial number is normally engraved on the exterior of the caseback.
Jaeger-LeCoultre: There are a few different numbers engraved on the exterior of the caseback of a Jaeger-LeCoultre watch but you can typically spot a string of digits (XXX.X.XX). This reference number is different than the JLC "Q" code reference number, which is found on the paperwork. Depending on the year made, the serial number is either on the exterior or interior of the caseback.
Omega: The Omega model/reference number is engraved on the interior of the caseback. You will have to have the caseback removed to see it. The serial number is normally engraved on the exterior of the caseback.
Panerai: Panerai watches have plenty of different numbers engraved on the exterior of the caseback (serial, case style, production number out of a series) but none of these are the PAM codes (these are on the paperwork).
Patek Philippe: The Patek Philippe model/reference number and case number are engraved on the interior of a caseback. The movement number is engraved on the movement. You will have to have the caseback removed to see them.
Rolex: The Rolex model/reference number is engraved on the case in between the lugs on the 12 o'clock side of the watch. You will have to have the bracelet removed to see it. The serial number is on engraved on the opposite side in between the lugs on the 6 o'clock side of the watch. However, if your Rolex was made after 2005, the serial number is engraved on the rehaut (the space between the dial and the crystal) on the 6 o'clock side.
TAG Heuer: The TAG Heuer model/reference number (usually starts with a letter) and the serial number are engraved on the exterior of the caseback.
It is important to never share the entire serial number with anyone – just the first few digits. Watch counterfeiters are known to search for authentic serial numbers to add to their fake watches. Also, if any parts of the watch have to be disassembled to see the reference and/or serial numbers, we highly recommend having a skilled watchmaker do it for you.  
Conduct Some Detailed Research About Your Watch Including History, Market Value, and Demand
Now that you are armed with vital information about your watch (brand, model, reference number) you can find out more about it by doing some online research. Depending on the popularity of your particular pre-owned watch, you should be able to read a little about its history (to determine when it was made and if there are a lot of them out there) and if it is a popular model in the secondary market.
How Much is My Watch Worth?
Perhaps more importantly, researching your specific watch can help you figure what to expect to be paid when selling your watch. You should be able to find sale listings of similar watch models, which can give you a rough estimate of your watch's current market value. However, remember that no two pre-owned luxury watches are identical in terms of condition, service history, and provenance—and all these factors can greatly impact the final sale price.
Also, those selling prices are going to be higher than what you ultimately get paid for your watch. There are margins, fees, shipping costs, and so on to take into consideration. So even if you see a similar used Rolex Submariner selling for $10,000, it is highly unlikely that you will pocket $10,000 for selling yours.
Understand How Condition, Repairs And/Or Aftermarket Components Can Impact Your Watch's Sell Price
Aside from the specific brand and model of your watch, the other main factor that will determine the value of your watch is its condition. Is the watch in good working condition? Does it have any visible damage? Are there scratches on the crystal or dents in the case? Has the bezel or dial faded? Is the leather band torn or has the metal bracelet stretched? Is the movement still winding and running according to spec? These are all important considerations to understand before selling your pre-owned watch. And be honest about the condition of your watch to any potential buyers—it is no use to try and hide any flaws because they will eventually find out, which will get in the way of you getting paid!
Should I Service My Watch Before Selling It?
You may be wondering if it is a good idea to service a used watch before trying to sell it. It really depends and this has to be judged on a case-by-case basis. It can be very expensive to service a luxury watch—particularly vintage or highly-complex ones—and it can be hard to determine if you will get that money back when selling your watch. Some buyers of pre-owned luxury watches prefer that you do not service the watch first so they can have it serviced themselves.
Compare the prices between identical models in excellent condition versus those in subpar condition to see the difference. And then compare the value difference with the cost of repairs to see if it is worth it sending the watch in for a service before selling it.
A Word About Official Watch Replacement Parts and Aftermarket Components
Responsible watch owners habitually service their high-end watches every few years. Regular servicing keeps the watch in tiptop condition as a skilled watchmaker will thoroughly clean and polish the watch, buff out any dents or scratches, lubricate the movement, install new gaskets (to maintain water resistance), and replace worn out components.
However, during servicing, it is standard operating procedure for many authorized service centers to replace damaged dials, reapply luminescence, swap out bezels for new ones, and so on. While this may make the watch look like new, many watch collectors prefer watches with all original parts! So if your watch is dated to the 1970s but has newer replacement parts made a few decades later, this can reduce the market value. Again, if you are aware of any replacement parts, it is best to tell the potential buyer upfront to avoid any surprises down the line.
Furthermore, the secondary market favors watches that have not been treated to aftermarket customization. For instance, factory gems are great but setting a watch with aftermarket diamonds using a third party can cause the value of the watch to fall—even if you have added more precious materials to the watch. Another thing to keep in mind is that most authorized service centers will no longer accept a watch if it has undergone any sort of modifications.
Take Clear and Detailed Pictures of the Watch You Want to Sell
The next step is to take clear and detailed pictures of the used watch you want to sell. Buyers want to see as many details as possible to determine the authenticity and condition of a secondhand watch before purchasing it.
You will need pictures of the front (dial side), back (caseback) and sides of the watch. Also include pictures of the winding crown, bracelet, and buckle. If there are any numbers engraved on your watch, take pictures of that too (but make sure to blur out most of the serial number). If you have pictures of the packaging and documents, take pictures of that too.
Make sure the pictures are well-lit, clear, and high resolution—you want your watch to look good in the photographs to entice potential buyers.  
Where Should I Sell My Pre-Owned Watch?
Not that long ago, there were very few outlets to sell a used watch and many of them left the seller at a disadvantage. But in today's booming secondary luxury watch market, more and more players are looking to sell and buy pre-owned high-end timepieces, which puts private sellers in a better position. Some establishments have plenty of experience with used timepieces while others are newcomers to the game and may not have the necessary knowledge to deal with this very niche market.
What Is The Difference Between Selling, Consigning, Auctioning, And Trading In?
Before deciding on where to sell your watch, figure out if selling, consigning, auctioning, or trading in is the better option for you. Some companies offer just one of these methods while others offer all of the above.
Selling your watch outright will get you paid the fastest but the payout is generally the lowest. Consigning a watch—where the company will list it for you and only take a commission fee once it sells—will normally get you more money but it can take much longer. You can also auction your watch but it can be risky as there is no way to determine the final sale price (plus there's also a commission to pay). Trading in your watch will usually get you the best price but there is no money on the table here, just credit towards the other timepiece you want to purchase.
Offline Options To Sell My Pre-Owned Watch
Going to brick-and-mortar establishments were traditionally the only option people had to sell their used watches. These included places like pawn shops, vintage consignment stores, jewelers, and auction houses. These days, you can still sell your watches to companies like these but they may not give you the best deal for your watch. If you insist on dealing with a person face-to-face, we would suggest calling them up first (or contacting them via their website if they have one) to find out how much they would be willing to pay for your watch before physically going there. But a word of caution, it is not uncommon to get an inflated price over the phone only to get a much lower offer when you show up with the watch in hand.  
Another "offline" option is to sell directly to a private buyer in person. But this has its own set of challenges including safety and trust with minimal personal protection should the transaction go south.
Online Options To Sell My Pre-Owned Watch
The main reason the secondary market for top-tier watches has exploded is because of the Internet. There are countless ways you can sell your secondhand watch online today but we will only highlight the most common ones.
A common way to sell a watch online is to go directly to online retailers who specialize in buying and selling pre-owned luxury watches. These types of e-tailers typically have online forms you can fill out to receive a quote quickly. They usually also have procedures in place to simplify shipping and insurance.
Then there are online marketplaces dedicated to fine timepieces where you can list your watch to sell to an end-buyer. Usually relatively easy to use, these types of platforms have a range of tools like shipping tools, advertising opportunities, buyer/seller ratings, and so on, to simplify the selling process. Conversely, there are more general online marketplaces that sell all sorts of goods, which can have bigger audiences but not necessarily the types of buyers you are looking for.
Online watch forums are another place where pre-owned watches are regularly bought, sold, and traded. As expected, these forums are frequented by enthusiasts who are very knowledgeable about watches. So make sure you are well informed before venturing out in this space.
Decide On The Best Selling Outlet for You, Get Some Quotes, And Compare Offers
This is the final stretch in the process of selling your pre-owned luxury watch. Research a few of the options we outlined above by reading reviews, customer testimonials, and online ratings. Once you have decided on a handful of options, then you can either request quotes or list your watch for sale and wait for the offers to come in.  
Before deciding on how and where to sell your watch, be aware of any fees, commissions, or additional surcharges. And do not forget to check if you are responsible for shipping and or insurance costs. Check to see if there are any applicable taxes or customs too. These costs will all have a direct impact on your final take-home amount; therefore it is important to find out what they are to make fair comparisons.  
You should also understand any return policies. For example, even if you have received an initial quote from a company via phone or email, the final offer may change once the watch has been shipped and the potential buyer sees it "in the metal." And if you are not happy with the final offer, who will pay for the shipping/insurance to get your watch back? Also, if you list the watch yourself online and the buyer is not satisfied with the watch and wants to return it, who is responsible for paying for the return shipping?
The Takeaways Of Selling Your Pre-Owned Watch
Although our guide to selling pre-owned luxury watches is a long one, the process itself can be relatively painless if you do your homework. If you understand exactly what you are selling, have researched different outlets to sell your watch, and are aware of any additional costs, then you should be in good shape.
Also, do not fall victim to the endowment effect—a phenomenon where people place more value to things merely because they own them. Your secondhand watch is ultimately worth what someone is willing to pay for it regardless of how special it is to you.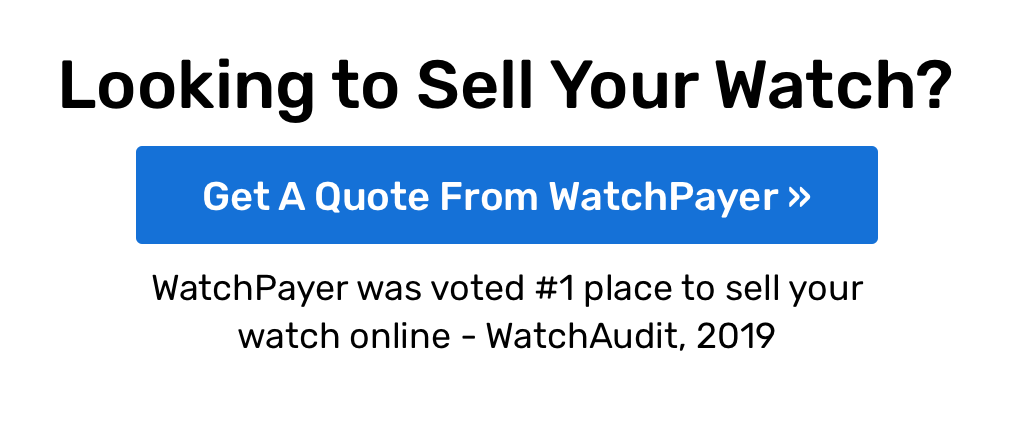 ---